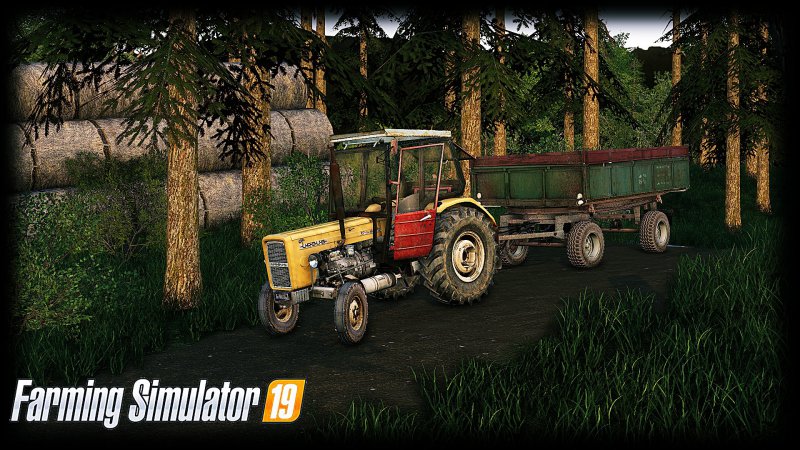 FS19 URSUS C-360 3P FS 19 ➡ HOOLIGAN v1.5


Mod for Farming Simulator 19
Description
FS19 URSUS C-360 3P FS 19 ➡ HOOLIGAN v1.5
V1.5
– Czysty Log
– Zmienione dźwięki
– Poprawiony tur
– Zmieniona ikona W sklepie
—
C-360-3P v1 by Hooligan
Funkcje:
– Koła [ podstawowe , wąskie ]
– Animacja farmera
– Światła na standardach fs 19
– Ruchoma oś
– Ruchome pedały gazu, sprzęgła i hamulca
– Ruchomy gaz ręczny
– Ruchome elementy silnika
– Ruchoma wskazówka obrotomierza
– Kontrolki na desce rozdzielczej świateł(długich/Krótkich) i podgrzewania świec
IC Panel Wewnątrz i z Zewnątrz
Wewnątrz:
– Otwierany Dach
– Owierane Drzwi
– Otwierana Tylna Szyba
– Zdejmowane/Zakładane Lewe Drzwi
– Zdejmowana/Zakładana Tylna Szyba
Z Zewnątrz (Na Podejście);
– Zdejmowana/Zakładana Siatka
– Zdejmowana/Zakładana Klapa Maski
– Otwierana Maska
– Zdejmowana/Zakładana Kabina
– Zdejmowane/Zakładane Chlapacze (Lewy/Prawy)
Konfiguracja W Sklepie:
– Konfiguracja Tura
– Konfiguracja Silnika (c355,c355M,c360)
– Konfiguracja Trójkąt odblaskowy, wzmocnienie błotników,Tablica rejerstracyjna
V2 Będzie posiadać:
– Mod pasażera
– Ruchome drzwi
– Ruchome chlapacze
– Ściągana cała maska
– Ściągane błotniki
Zakazy!!!
Zakaz Zmiany linku!!
Zakaz Zmiany textur!!
Zakaz Badziewnych modyfikacji!!
Można wynośić na inne fora po skopiowaniu całej zawartości posta!!
Jakikolwiek zakaz zostanie złamany Koniec z modami z mojej strony.!
Dziękuje Driver300 i Gracjan26 za pozwolenie na wydanie!!
Uszanujcie czyjąś pracę i dostosujcie się do zakazów a będzie tego więcej!!
Prohibitions!!!
Prohibition of changing the link!!!
Prohibitions Change of textures!!
No bad modifications !!
You can go to other forums after copying the entire content of the post !!
Violation of the ban = end of my modifications!
Thank you Driver300 and Gracjan26 for permission to release !!
Respect someone's work and adapt to the bans and there will be more mods !!
Report abuse or broken download link