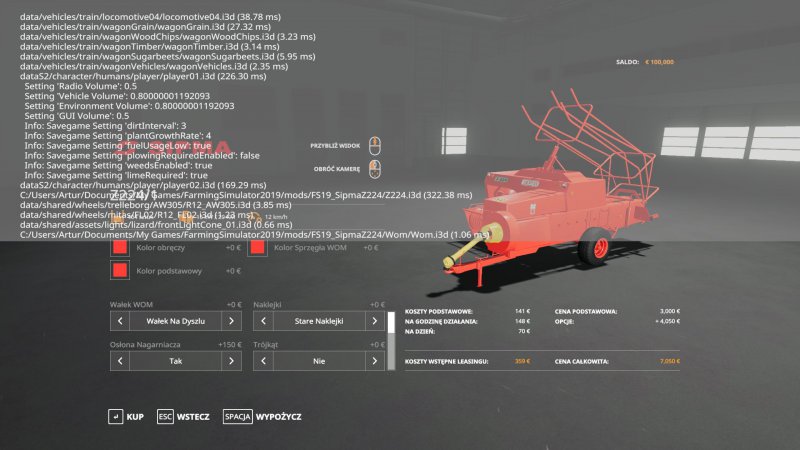 FS19 Sipma Z224 Czysty LOG


Mod for Farming Simulator 19
Description
FS19 Sipma Z224 Czysty LOG
Prasa Simpa Z224 Do Farminga 19. Prasa krążyła po internecie więc się za nią zabrałem i usunąłem z niej wszystkie błędy z logu, poprawiłem tłumaczenia, i SimpleIC bo było kiepsko zrobione.
Niestety jest jeden mały problem prasa nie chce zbierać słomy, trawy itp z pola prawdopodobnie coś jest skopane w xml, ciężko z ulepa zrobić działającą modyfikację, ja umiałem poprawić błędy niestety z tym błędem nie mogę sobie poradzić. Udostępniam z myślą, że może ktoś do niej zajrzy i wymyśli co może być z kiepscone ja po linijkach nie widzę błędów, animację też na swoim miejscu, nie wiem o co chodzi tu potrzeba kogoś mądrzejszego.
UWAGA! Przed włączeniem prasy należy posiadać modyfikację SimpleIC i rozłożyć przedni dyszel inaczej nie uruchomicie prasy.
Jeśli w logu będziecie mieli linijki "BALETWINE" to nie jest to błąd tylko potrzebna wam modyfikacja StrawHarvester, ale nie jest ona konieczna do gry, po prostu piszę to żebyście nie myśleli, że są błędy w logu. Myślę, że znajdzie się osoba pomocna i wspólnie rozwiążemy ten problem.
Report abuse or broken download link