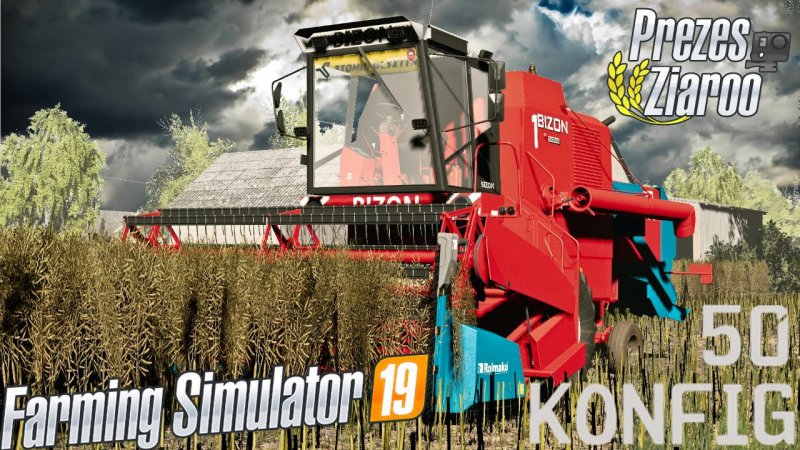 FS19 FMŻ BIZON Z056 POLISH PACK v0.9.9


Mod for Farming Simulator 19
Description
FS19 FMŻ BIZON Z056 POLISH PACK v0.9.9
✖ Co posiada Mod:
ℹ Konfiguracjie:
– 50 konfiguracji nie opisze xD Nawet nie znajde na to miejsce…
Do tych najciekawszych można zaliczyć 100 kolorów + multicolor, 9 modeli BIZONa, Powiększony zbiornik, Ustawienie filtra co 10° od 0 do 190 czy az 3 koguty z ustawieniem miejsca! ( po otworzeniu klapy wyłączają się! ) REALISTYCZNIE 100%!
ℹ Na podejście:
– BARDZO Dużo animacji z dźwiękiem! Ale z tych najciekawszych to chyba tylnie światła składane oraz zdejmowane z kolizją, Zdejmowana plandeka z silnika, Składane schodki, rozkładana rura + dzwięk czy Drzwi/klapy wszystkie otwierane z dźwiękiem anim.!
ℹ Ruchome:
– WSZYSTKO! NAWET FARMER SIE PORUSZA! Patrz filmik! z najciekawszych animacji mogę się pochwalić Wycieraczką na Panel IC + dzwięk, Wszystkie koła pasowe itp czy wszystkie wajchy, pedały.
ℹ Oraz:
– Młocarnie na klawisz X
– Heder na klawisz B
– Możliwość dodania gazu podczas rozładunku zboża
– Skręcane klepisko
– Przy konfiguracji rura oryginalna wysypywanie na klawisz O ale najpierw na podejście rura. Konfiguracja rura hydrauliczna rozkładanie rury w kabinie dopiero sypiemy. Oczywiście dzwiek sypania też jest.
– 3 typy światła ostrzegawczego ( kogut )! Kazdy zgasnie sam po otwarciu klapy zbiornika!
– Do Bizona jest jeszcze heder i wózek.
– Klakson od 60tki xD
– Dźwięki wszystkiego!
– w ujj animację!
– Rekordowa waga! Tylko 23 mb!
– Dynamiczny farmer
– Dynamiczna kamere
– 0 błędów w logu!
– 0 błędów w txt!
– Realne dźwięki!
– NIE DA SIE WSZYSTKIEGO OPISAĆ! TO TRZEBA POBRAC I SAMEMU ZOBACZYĆ!
Credits
▶ Model:
- Głównie to Giants Editor
- Wiele szczegółów zrobiłem sam czyli PrezesZiaroo
- Kilka pierdol pochodzi od Marcello1942
- Ale tez modele podsyłali mi widzowie min.
- Finalny model BIZONa: - Grotek332
- Kilka naklejek: - Serbu$
- Sita itp.: - Deus Volt
- Wózek by Majstersztyk
Dziękuje każdemu który pomógł przy paczce!
▶ Skryptów:
- PrezesZiaroo
- ifko[nator]
▶ Tekstury:
- PrezesZiaroo
- UDIM by PTRolnik and Giants Editor
- Niech zgłoszą się do mnie autorzy niektórych naklejek! Ponieważ widzowie je podesłali ale bez autorów...
▶ Dzwieki:
- PrezesZiaroo oraz Marcello1942
▶ Programowanie do FS 19:
- PrezesZiaroo
Report abuse or broken download link