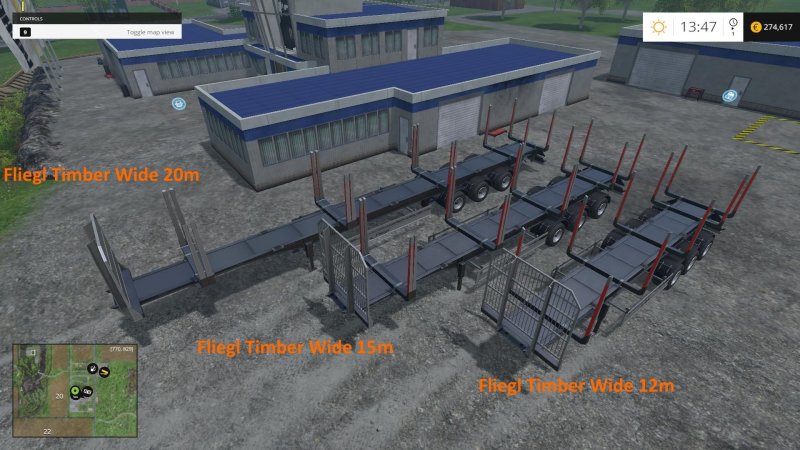 LS15 Fliegl Timber Runner Wide With Autoload v1.2


Mod for Farming Simulator 15
Description
LS15 Fliegl Timber Runner Wide With Autoload v1.2
This set of three fliegl timber trailers is for those, who like original fliegl timber trailer, but cant load it with front loaders or big arm loaders. Every second pair of forks was removed so there is much more place for loading / unloading. First one is 12m length (as original) and second is resized to 15m, so you can load up to 17m logs or 2 piles up to 7.5m or 3 piles up to 5m.
v1.2
-added new 20m trailer which can load logs to 1,2,3 or 4 piles (max. 5m, 6.5m, 10m and 20m)
-added additional forks which can be folded / unfolded when you loading short logs to 3 or 4 piles (15m and 20m trailers)
-added back attacher for trailer and trailerLow to all trailers
-small fixes in script
v1.1
-added autoload script (thanks to Marhu)
-you can change number of logs piles on your trailer from 1 to 3 (12m trailer 1 to 2)
-you can show unload area to see where logs will be unloaded
-you can move, resize and rotate unload area
-tension belts
Controls:
KEY_X – fold / unfold additional forks (15m and 20m trailers)
KEY_B – start autoload
KEY_Z – start unload
KEY_O – change side (left / right)
KEY_KP_enter – change number of piles
KEY_KP_minus – shift unload position
KEY_KP_plus – resize unload position
KEY_KP_multiply – rotate unload position
KEY_KP_divide – show / hide unload position
If you find any errors or issues, let me know in comment or to [email protected] and i will fix it in next version.
Report abuse or broken download link