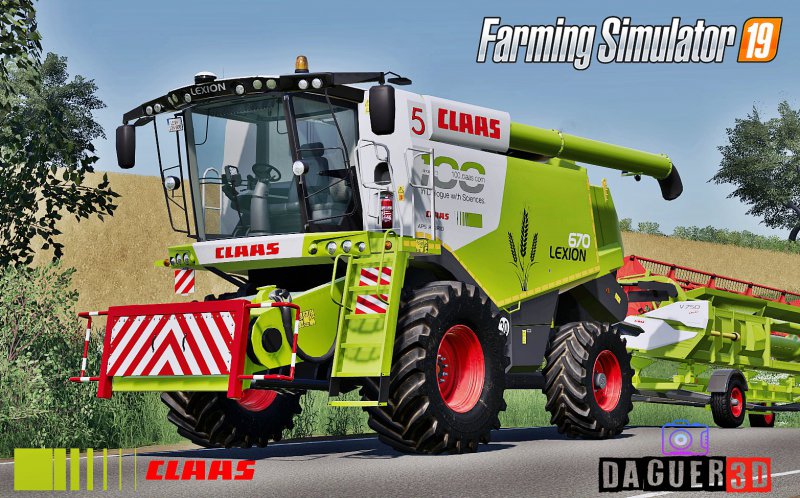 FS19 Claas Lexion 600 Serie


Mod for Farming Simulator 19
Description
FS19 Claas Lexion 600 Serie
Hello Farming Simulator 19 players!
I presenting my Claas Lexion 600 Series for FS2019.
Mod has new configurations, New Real dirt texture, BKT Tires, new details in the model and many more features…
I spent a few weeks on this mod.I hope you will like the mod and and you'll appreciate my effort.
Have a nice game!
Claas Lexion 600 Series(650, 660, 670) Years 2012-2016
Claas Lexion 600 Features:
– Washable(New Real dirt textures) and Wearable
– Animated joystick
– Movable rear axle
– 4 Types Tires (Trelleborg, Michelin, BKT and Continental)
– Terra Trac wheels Config
– Seat suspension
– Reflective Stickers Config (2 types)
– Transport Protection Sign Config
– 3 types engine power versions (Lexion 650, 660 and 670)
– Pedals animation in the cabin
– New Exhaust effects
– New details model
– Interior light
– Logo Stickers Config (Agravis, Claas100, AGB and Fricke)
– Numbers Config (1, 2, 3, 4 and 5)
– Dynamic hoses in Cutter Trailer
– Working lights, turn signals, brake lights
– Displays animated
– Folding Grain Tank
– Full animation of unfolding the chopper
– Animated hydraulic
– Working Particle System
– Fixed lights and mirrors
– And more other features…
*** No errors in LOG!!! ***
The package includes:
–> Claas Lexion 600 Serie (650, 660 ,670)
–> Claas Vario V750 and V900
–> Claas Conspeed 8 rows
–> Claas Cutter Trailer
*Please keep only my download link and don't upload this mod on other hosts!
*Please don't release edit this version mod!
*The ban on taking the mod to other forums with changed content post!
Credits
Daguer3D,Vasilisvasilis31
Report abuse or broken download link