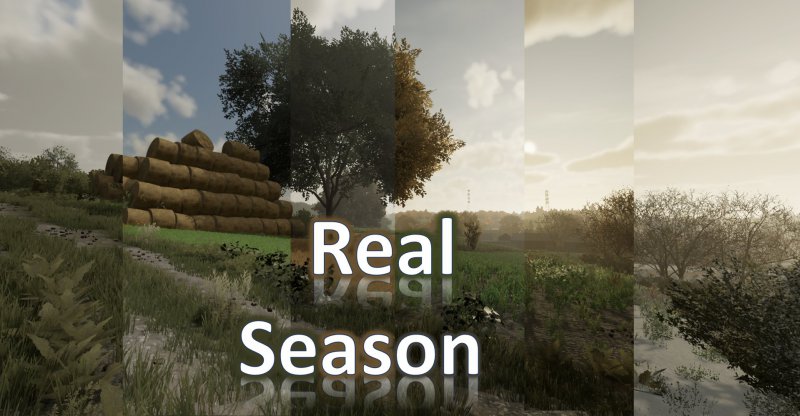 FS22 RealSeason


Mod for Farming Simulator 22
Description
FS22 RealSeason
Poniższy mod zmienia domyślny season w FS22 na nowy poprawiony. Poniżej zmiany jakie zostały wprowadzone w modzie. UWAGA !!!! PRZED INSTALACJĄ MODU PRZECZYTAJ INSTRUKCJĘ KTÓRA ZNAJDUJE SIĘ PONIŻEJ
RealSeason 1.0.0.0
– Poprawiono oświetlenie poprzez dodanie efektu HDR. Zwiększono dynamikę obrazu i bardziej uwidoczniono cienie zmieniając zakres tonalny obrazu. Dzięki czemu kolory są bardziej przyjemne, a cienie bardziej wyraziste.
– Wyregulowano kontrast obrazu, domyślne oświetlenie FS22, ma bardzo mocno podbity kontrast obrazu przez co cała gra jest bardzo "cukierkowa"
– Wprowadzono ciemniejsze noce i bardziej efektowne wschody i zachody słońca
– Dodano domyślną poświatę "mgły w oddali", przez co obraz staje się bardziej wyrazisty i stonowany
– Dodano nowe shadery dla drzew, pozwoliło to na przyciemnienie tekstur drzew szczególnie w porze wiosennej oraz zmianę ich koloru na mniej czerwone podczas pory jesiennej
– Zmieniono teksturę wapna rozsiewanego na polach na ciemniejszą bardziej dopasowaną do oświetlenia
– Dostosowano warunki pogodowe do ogólnego klimatu polski. Teraz podczas zimy występują niższe temperatury i jest większe prawdopodobieństwo opadów śniegu a tym samym jego dłuższego utrzymania przez całą zimę. Zmianie uległ również rozkład temperatur dla pozostałych pór roku. Na wiosnę występują poranne mgły i niewielka ilość opadów, podczas lata wprowadzono niepewność co do zbiorów z powodu większej ilości burz i opadów deszczu (zgodnie z polskim klimatem może się trafić rok kiedy zebrać cos z pola będzie naprawdę ciężko).
Jesienią pojawiają się zarówno poranne mgły i wieczorne zamglenia oraz przymrozki. Zima to niższe temperatury niż w podstawowym season oraz większe prawdopodobieństwo opadów śniegu.
– Poprawiono dane dotyczące szerokości geograficznej, która ma wpływ na czas wschodu i zachodu słońca w różnych miesiącach i porach roku. Teraz w czerwcu słońce w wstaje około godziny 5 a zachodzi dopiero po 21:30. Natomiast w zimie słońce budzi się ok godziny 8 a zachodzi już po 15.
1) Proces instalacji
– Rozpakuj archiwum RealSeason[UNPACK].zip
– Uruchom plik instalacyjny install_RealSeason.bat
– Instalator poprosi o podanie litery dysku na którym został zainstalowany Farming Simualtor 22. Należy ją podać może być mała bądź duża litera.
– Instalator sam wyszuka ścieżkę instalacyjną Farming Simualtor 22. Zapytasz dlaczego musisz podać literę dysku – to ze względów optymalizacyjnych
– Jeśli wszystko pójdzie dobrze a taką mamy nadzieję :D, to instalator pokaże komunikat że mod RealSeason został poprawnie zainstalowany. Możesz wtedy zamknąć okno instalatora i uruchomić Farming Simualtor 22
– Teraz ważny krok … PAMIĘTAJ O TYM ŻEBY NA LIŚCIE Z ZAINSTALOWANYMI MODAMI ZAZNACZYĆ MOD RealSeason !!!
– Graj i ciesz się z poprawionego Season do FS22
2) Bezpieczeństwo stanów zapisu gry
Wiele osób pewnie będzie się zastanawiać czy instalacja tego moda nie spowoduje utratę bądź uszkodzenie danego save. Odpowiedź brzmi nie, nie musisz się o nic martwić mod nie ingeruje w jakikolwiek zapis.
3) Czy mod edytuje pliki gry ??
Tak mod edytuje pliki gry ze względu na ograniczenia języka LUA musiał zostać stworzony skrypt instalacyjny. Ma to również swoje ograniczenia. W momencie kiedy korzystasz ze Steam i pojawi się aktualizacja Farming Simulator 22, niektóre pliki mogą zostać zmienione.
UWAGA !!!!! DLATEGO WAŻNE JEŚLI PO AKTUALIZACJI FARMINGA NADAL CHCESZ KORZYSTAĆ Z MODA URUCHOM PONOWNIE INSTALLATOR I WYBIERZ OPCJĘ NAPRAW.
W takim wypadku mod ponownie się zainstaluje
4) Czy odinstalowanie moda przy wykorzystaniu opcji ODINSTALUJ przywróci poprzedni stan plików gry.
Tak skrypt instalacyjny RealSeason tworzy kopie plików które zmienia i w przypadku odinstalowania moda przywraca oryginalne pliki.
5) Ewentualne błędy i niedociągnięcia
Projekt RealSeason będzie cały czas rozwijany, każde uwagi i błędy będą sprawdzane i naprawiane. Na ten moment chciałem wypuścić jak najbardziej dopracowana wersję poprawionych season. Jednak zdaję sobie sprawę że parę rzczy jest jeszcze do poprawy. Błędy i niedociągnięcia można zgłaszać mailowo na adres: [email protected] bądź na DC: haker146#0856
Report abuse or broken download link