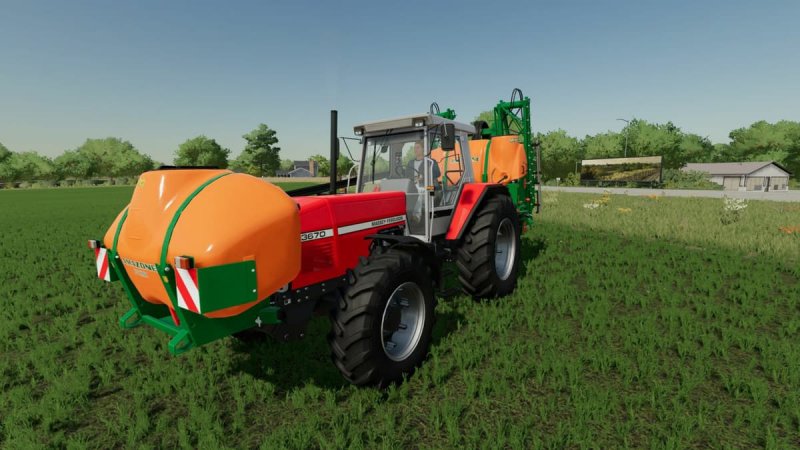 FS22 Amazone Sprayer Pack v1.0.2.0


Mod for Farming Simulator 22
Description
FS22 Amazone Sprayer Pack v1.0.2.0
Hallo zusammen,
hier haben wir für euch das Amazone Sprayer Pack aus LS17!
Es verfügt über eine Anzeige für den Füllstand und jeweils 1200L Tankvolumen für die Tank- und die Spritzeinheit.
Die Arbeitsgeschwindigkeit beträgt 15km/h und die Arbeitsbreite 15,2m.
Als Konfiguration gibt es eine Begrenzungsleuchte, um bei Nacht leichter die Enden des Spritzenarmes zu erkennen.
Ein spezieller Dank geht an Anthu heraus, da ich seine Verbindungsschläuche aus seiner LS19 Version für unsere Konvertierung verwenden durfte.
Und nun viel Spaß mit diesem Sprayer Pack, welches wunderbar zu älteren Traktoren passt, oder auf engeren Feldern verwendet werden kann.
Changelog:
– Konfiguration für Warnschilder
– Konfiguration für Kennzeichen inkl. Kennzeichenbeleuchtung
– Spot Spray hinzugefügt
(Benötigt Precision Farming, Benutzung erst ab der ersten Unkraut Wachstumsstufe, Effekte werden auf Servern evtl. nicht dargestellt)
– "Missing ai agent attachment definition for attachable vehicle" Fehler behoben
– vertauschte Seiten der Teilbreiten korrigiert
Sharing this mod is welcome..
The following applies: original link, no replacement link or direct download.
A link to the post at Forbidden-Mods.de is also possible.
Credits
GIANTS
Publisher: Forbidden-Mods.de
Modding: AM Modding
Script: Ifko[nator] - Shop Category
Blender Edit von Flocke
Verbindungsschläuche von Anthu
Getestet von AM Modding, Anthu, TypVomDorf
Report abuse or broken download link