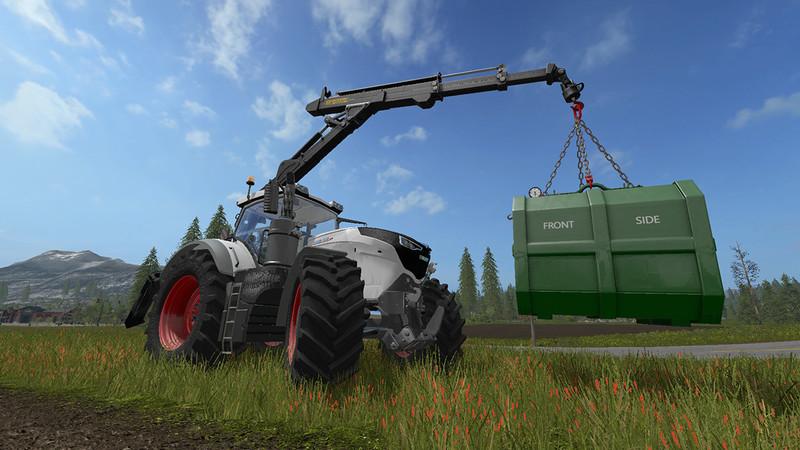 PONSSE REAR MOUNTED CRANE + LIFTING HOOK CRANE V1.4


Mod for Farming Simulator 17
Description
The Mod has the following Features:
– unfoldable Supportlegs (Animations will maybe be reworked in the future)
– Ponsse Decals
– 3-Point Hitch for Front and Rear. It is recommended to use a big Tractor because of the Size!
– Shop Graphics
– Trailer Hitches for big and small Tippers
– Cranecamera
– working Lights
Version 1.4:
– Textures have been a little overworked and adapted, reflections have been reduced a bit.
– The rotation animation of the rapier head has been fixed, the hoses should not turn anymore.
– The crane camera has been fixed and a tool camera has been added to track the gripper.
– The front weight now has more height to the ground and does not hang so deep.
– The rear crane continues to buckle when it is lowered and turned forward. Optimal for transport.
– Configs have been adjusted and minor fixes.
– The load hook version has been added. This is capable of e.g. Containter from the Kotte Universalpack. Also load carriers can be taken up with it. For example, from the CSZ set and see the next patch point. If the Kotte Pack is not used, the mod will produce a warning in the log. However, this is unimportant, it merely says that the appendix type of the Kottepack does not exist. If the message bothers you anyway just open the ponsse_crane_chain.xml in the Mod-ZIP with Notepad ++ and delete the lines 69-74. Then save and repack or save the changes to the ZIP file. Unfortunately, attached devices are not properly stored by the game and produce problems after loading the game so that the attached objects can spin around. Therefore, before saving all devices depends on the hook. The hook itself is rotatable, it must be turned to record some devices in the right direction.
– Ponsse Lastbeam added in category Miscellaneous. This can be attached to the crane and is able to lift up to 4 pallets in a row. Just move the bar over the 4 pallets or put it lightly (!) And then put on the straps. This, for example, is very good for quickly loading pallets from the FLIEGL pallet filling system.
Report abuse or broken download link