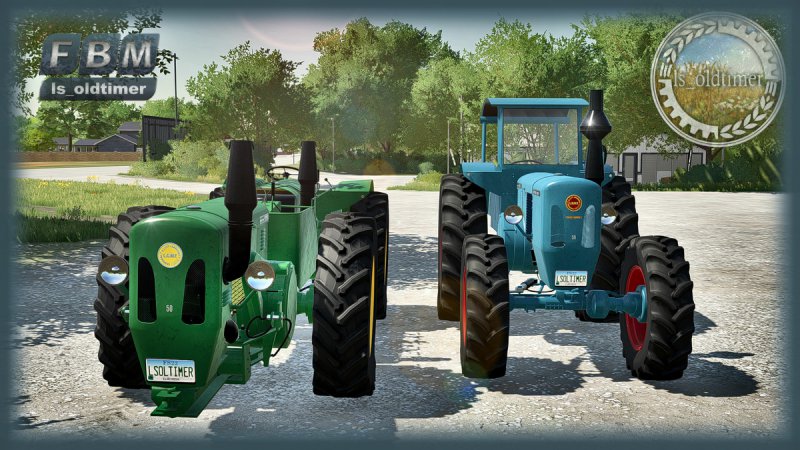 FS22 LanzBulldog Pack3


Mod for Farming Simulator 22
Description
FS22 LanzBulldog Pack3
Hier ein weiterer Mod aus dem Hause FBM
Lanz Bulldog Pack3
Ich freue mich, euch die nächsten Lanz Bulldogs inklusive Zubehör vorstellen zu dürfen.
Das Pack beinhaltet zwei ganz besondere Eigenbau-Bulldogs.
Lanz D5016 Allrad und einen Lanz D5016 Tandemschlepper mit passendem Schiebeschild.
Leistung D5016 Allrad : genug !
Leistung D5016 Tandem: 100PS-120PS
Konfigurationen D5016 Allrad
• 2 Reifenvarianten
• Farbwahl der Felgen
• Farbwahl Karosse
• Nummernschild
Konfigurationen D5016 Tandem
• 4 Reifenvarianten
• Luftfilterkonfiguration
• Auspuffkonfiguration
• Farbwahl der Felgen
• Farbwahl Karosse
• Farbwahl Ackerkrallen
• Nummernschild
Konfigurationen Tandem-Schiebeschild
• Farbwahl
Features
• für den Tandem passendes Schiebeschild zur Silageverichtung
• Ausklappen der Ackerkrallen (STRG+A)
• Öffnen Motorhaube (STRG+Z)
Info! solltet Ihr den Mod "FS22_park_vehicle" nutzen, so ändert bitte in eueren
Spieleinstellungen die Tastenbelegung zum Parken der Fahrzeuge.
• alle LS22 Neuerungen implementiert
• alle beweglichen Teile sind vollständig animiert
• komplett Animiertes Amaturenbrett
• vollständige Fahranimation
Ich wünsche Euch allen viel Spaß mit den beiden Monstern !
Und denkt dran —> wenn´s nicht raucht hats keine Leistung !
LG ls_oldtimer
Teilen des Mods ist gerne gesehen – aber nur mit original Link oder Link auf diesen Beitrag.
Kein Direktdownload, kein Ersatzlink
Sharing the mod is welcome – but only with the original link or link to this post.
No direct download, no replacement link
Credits
Giants Software GmbH
Publisher: Forbidden-Mods.de
3d. Modell : ls_oldtimer
ingame : ls_oldtimer
Sounds : qwertzuioqwe
Radnaben : DB601
Scipts : DaHoffi
Report abuse or broken download link